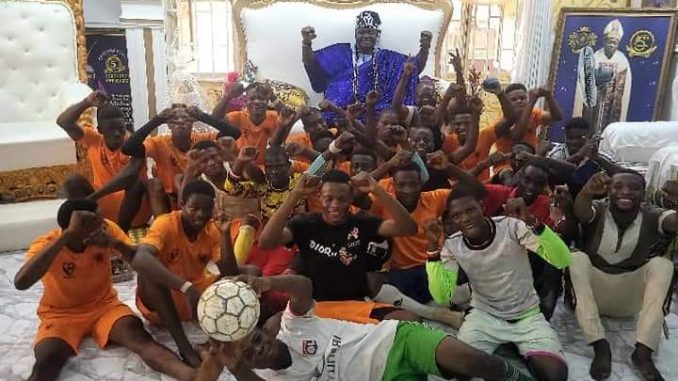 Amidst songs and encomium, the palace of the Elerinmo of Erinmo, Oba Michael Odunayo Ajayi, Arowotawaya II yesterday played host to a youth football team known as the Arowotawaya FC.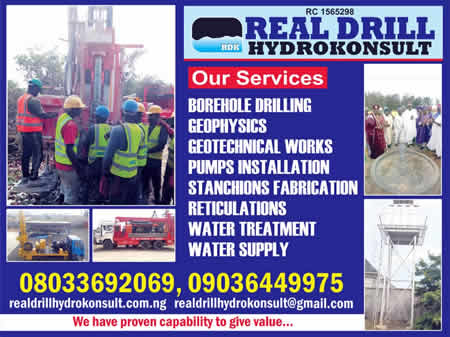 After their 7-0 victory in a match to commemorate birthday of the monarch today, the players, all in their orange jersey, trooped to the palace and shared their joy with their royal father.
Oba Arowotawaya, being a lover of youths and youths empowerment, was welcoming as he joined them in a lively birthday chorus and even clapped to the rhythm spiced by individual prayers for the traditional ruler.
The famous axiom-one good turn deserves another- aptly captures Oba Arowotawaya's background to his ascension to the throne of his forebears in July 2014.
The Tabloid.net gathered that his late father Chief (Dr) Joseph Olubowale Ajayi was reputed for his landmark achievements in the town, resulting into his installation as the Asiwaju of Erinmo, a title exclusively reserved for a personality whose star shone beyond Erinmo skyline.
The Elerinmo reaped the fruit planted by his father, even though his mother had been foretold that one of her sons would wear crown later in life. "Though I knew and my mother kept drumming it in my ears that I will be great and famous, I never knew it will come to pass in this manner. Indeed, the ways of God are a mystery to man," he confirmed.
That is one of reasons Oba Arowotawaya is not found amidst desperados who pursue life in a devil-may-care speed. Right from childhood, his was a steady progression from elementary school (Bishop Smith Memorial Primary School, Ilorin) to secondary (Command Secondary School, Ipaja) up to the University of Ilorin where he graduated with a Bachelor of Science in Sociology at age 20 in 1987, the time some of his contemporaries were slugging it out with the West African School Certificate (WASCE) results suitable for them to gain admission into higher institutions of their choice.
His post-graduate years, which saw him picking jobs at different places including UAC of Nigeria Plc, Unilever Group, Nigeria German Chemicals Plc (Hoescht), exposed him to leadership responsibilities, which ultimately prepared him adequately for his status today as royal father, the custodian of Erinmo culture and tradition.
In the past eight years, Erinmo has witnessed a handful of strides, especially in terms of being opened up to the world, by the courtesy of Oba Arowotawaya, whose physical stature in the midst of his fellow kings, is scarcely ignored. It is not only his elegance presence at pubic functions within and outside Nigeria, Oba Arowotawaya resourcefulness and innovative visions have drawn distinguished class of people to Erinmo and laid a strong foundation for its assured future, as regard socio-economic development of the town.
In what looks like public rewards for his transformational reign so far, Oba Ajayi has harvested an appreciable number of honours bestowed on him by individuals and groups which value his contributions since 2014. Some of the awards include "Leadership Award of Integrity" as most outstanding royal personality by Youth Assembly of Nigeria in 2020; "Most Outstanding Philanthropic Monarch" of the year in the Southwest AKONI Yoruba leadership award by Yoruba Redemption Foundation (YOREF) 2019; "Award of Excellence" for youth empowerment and building of unity in Yoruba land by Yoruba odua Union 2019; "Patron of National Association of Polytechnic Students (nap)2019; "Award of Excellence" by Nigerian sociological and anthropological students association university of Ilorin 2017;
"Special appreciation in recognition and appreciation of your commitment to the ideal of service above self dedication by Rotary Club of Ilesa Metropolitan 2018; "Community Excellence Award" in recognition of your accomplishments as a progressive King of Erinmo Ijesha people and for your commitment to unity across Nigeria and Africa by ameristrategy-USA; "Special tribute & proclamation from the Mayor City of Newark New Jersey April 13 2017; "Tribute & joint resolution from the Senate and general Assembly of the State of New Jersey 2016;
"Golden Excellence Leadership Award" as the distinguished Oba in Yoruba land 2018/2019 by National Association of Odua Students; "Grand Royal Patron of Radio, Television, Theatre and Arts Workers Union of Nigeria NTA, Ibadan February 18 2020; "Royal patron/ambassador of stop rape campaign in Nigeria 26 October 2021; "Merit award at the 70 years anniversary in the apostolic primary school Ijebu Ijesha, July 8 2017; "Royal father of the year by Yoruba youth assembly February 12 2019; "Award of excellence in recognition and appreciation of your enviable leadership style and wonderful service to God and humanity by CAC Agbala Itura, 2 August 2015; "Award of Excellence by National Association of Nigeria Students (NANS) Ghana chapter 23 July 2016;
"Certificate of recognition by the Essex county board and chosen freeholders, USA, 2016; "Nigerian outstanding traditional ruler of the year by Nigerian outstanding leadership award platform/ hero magazine international 18 December 2021; "Iconic Royal father of the year by Africa youth leadership economic summit; "Special recognition awards by gova educare foundation 27 November. 2021; "Abadina council fellowship award as honorary member of the university community of university of Ibadan; "Award of merit as great philanthropic 'Stand Out' king in the year by oni achiever; "National outstanding leadership award as trail blazer by national association of polytechnic (NAPS) 10 August 2016;
"Award into the Yoruba youth assembly hall of fame by Yoruba youth assembly (YYA) 2018 and "Award as adult harvest royal father of Methodist church Nigeria on 29 November 2020. "Excellence award as life Royal father of unstoppable family parish cherubim and seraphim movement church 18 July 2021, "Award of excellence by Akure diocese (Anglican communion) 15 August 2015; "Award of pillar of the project bond of Rose Odika 32 years on stage July 10, 2021 and "Fellowship of Institute of African Royalty, South Africa 30 January 2020.
However, all the above gestures are less important to Oba Arowotawaya until his dream for his domain is fully achieved. "I want Erinmo to grow in infrastructure, human capital development, harnessing the huge tourism potentials, youth and women empowerment, peace and stability.  Thankfully, we have arable land, we have huge potentials, we have needs for growth and development, we have skilled and unskilled labour too including friendly people needed by investors," he highlighted.
Oba Arowotawaya's penchant for pouring out his heart on contentious issues has been his hallmark for which he is known; talking truth to power, not unmindful of his status under the constitution. He does not particularly shy away from calling on government to assign more roles to traditional rulers due to what he called their proximity to the grass root.