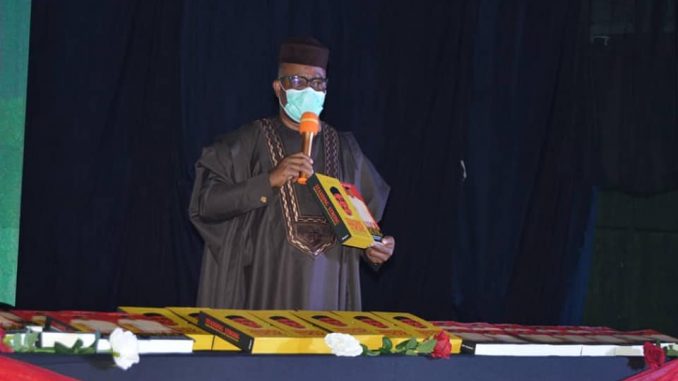 Minister, Niger Delta Affairs Ministry, Senator Godswill Akpabio, has again reiterated that but for patriotic stance of former Senate President, Ken Nnamani, there would not have been the uncommon transformation in Akwa Ibom State, describing him as the architect.
As the launcher of the book; 'Standing Strong', written by Senator Nnamani, at the International Conference Centre, Abuja, on Thursday, Akpabio noted that dropping of the gavel by Nnamani, as the Senate President, on the Third Term Agenda at that time, paved the way for his campaign and emergence as the governor of Akwa Ibom State.
"Your Excellency, what you did on that day, when you put up the question for and against Third Term before your colleagues and the Nays had it, gave me the opportunity to become the governor of my state and that brought about uncommon transformation in the state," he recalled.
He further revealed, "I had commenced my governorship campaigns, but when the issue of Third Term Agenda came on board and was gaining grounds like wild fire, I almost dropped my ambition because from what we learnt, all incumbent governors had been promised extra term for their support."
The former Senate Minority Leader also said, "Sir, when you took that patriotic step with the backing of some of your colleagues, you helped to save our constitutional democracy. You sided with the law and the people and today, you are being celebrated. You were the architect of uncommon transformation in my state from 2007 to 2015."
Akpabio noted that, "Senator Nnamani displayed uncommon courage and that is why I call him Iconic. When you dropped that Gavel, you were not only saving our democracy, you also helped us to abolish the House boys and girls syndrome from my state, because of the free and compulsory education, I put in place for all school age children resident in the state. You transformed the polity and made democracy to be alive in the past 22 years."
"Permit me to say that you and President Muhammadu Buhari has one thing in common and that is integrity. We respect and honour you for your integrity. You are never a desperate man for public office. When others were struggling in the Senate, you didn't. They fished you out. May God continue to fish you out in Jesus name. You are a man that Nigerians, the youths, the national assembly, the executive and the entire nation can trust. May you continue to stand strong."