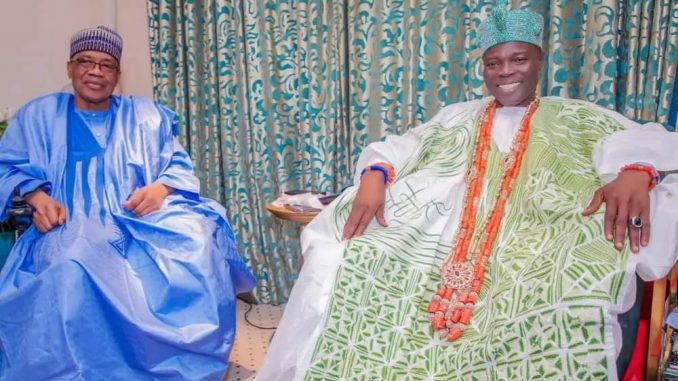 Resplendent in a pronounced, heavily embroidered royal robe complemented by his staff, the Olowu of Kuta, Oba Adekunle Oyelude Makama was ushered into the hilltop residence of the former Head of State, Commander-In-Chief of the Armed Forces, General Ibrahim Badamosi Babangida with courtesy exclusive to Very Important Personalities (VIP) to the mansion.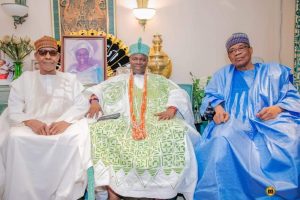 Accompanied by his chief and palace aides, Oba Makama's arrival met the 81-year old Babangida in elevated spirits; decked in a blue agbada on his exquisite seat where he warmly recieved his guest and exchanged their usually generous banter before other watching guests.
The Tabloid.net observed that every visit of the mercurial Oba Makama to the former military president has often been trailed by remarks-complementary and, sometimes, otherwise.
However, the Olowu would always respond to such reactions in few words; that his visit is a regular check on Babangida, who was not only his principal but also a God-sent angel that plays significant roles in his life journey.
The Olowu maintained and did firmly that on no account would he lose sleep over any comment to his visit to Minna or elsewhere because of what he called his appreciation of his status as a traditional ruler who no longer has a hidden place in the society.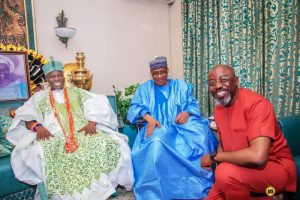 "I am enlightened enough to know that the stool I am occupying is not a secret place, even though it is sacred. So, if my activities like my regular homage to my benefactor, my mentor, General Babangida, are monitored, there is no crime in it. It is this understanding that makes me active on social media to show that I have nothing to hide as promoter of unity in the country. We have to accept our new reality of this liberal space which internet facilities have opened to the world for our use," he tutored.
The ethnicity unbiased royal father particularly prayed for the Octogenarian Babangida, calling on God's continued protection over him and "strengthen our elders for the benefit of mankind."
He encouraged his fellow traditional rulers to also be internet compliant but guided them to use the technology with adequate caution inorder not to desecrate the stool on which they sit.
He explained, "social media is a tool we all need now to showcase various developments going on in our towns and communities to the larger world. That has been the major purpose for which I am on social media. I want people beyond Nigeria, people all over the world to know that Kuta is not an anonymous town but a distinct entity on its own," he asserted.