Between May 17 and May 28, 2022, Cannes in France witnessed convergence of film makers from different countries, all in the city for the 75th edition of the annual International Films Festival.
Among participants, who smiled back home to his family, friends and fans, was Zack Yanni. The fast growing thespian left the film festival arena with a sense of fulfilment having closely observed and freely interacted with his soulmates from other countries and got exposed to new information to further expand the coast of his production enterprise.
He recalled, "At the 2021 International Film Festival, our film, Trees of Peace, won the Best Feature Film and Best Screenplay awards.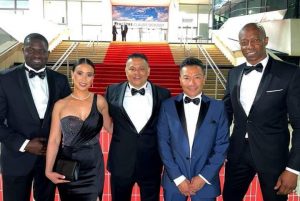 "Congratulations to the Writer and Director Alanna Brown who started writing this script 10 years ago and met with the lead producer Ron Ray 7 years later to get this script made into a reality where Zack Yanni played the role of Militia Man, a Hutu Rebel. Trees of Peace debuted as Number 4 in Top 10 list on Netflix Worldwide right behind Adam Sandler's Hustle, Jennifer Lopez's Halftime and Interceptor making a huge impact for independent filmmakers. Specially for women of colors and a cast full of African descents."
Zack added, "Actually, many film investors in Hollywood had passed on this script until the Lead producer Ron Ray met with the Writer/Director Alanna Brown on Instagram and decided to produce this beautiful movie lead by 3 African women and 1 Australian woman. Those 4 lead actresses gave us a phenomenal performance worth watching. As an actor, it is a great story to be part of and i am very grateful to the producers and the casting directors for trusting my talent for this role. It is a great honor to be part of a Hollywood Production with a cast full of African actors telling an authentic African story based on true event. I cant wait to see how the public and the fans appreciates this movie.
Born and raised in Cotonou, Benin, the actor is optimistic and indeed assuring that his recent experience from the Cannes festival had prepared him to strive for the penthouse of his career in the nearest future.
His background in corporate world after his degree in Accounting at the Drexel University in Philadelphia and a stint at the Big Four Accounting firm in the US, has been an added advantage for him to fully actualise his dream of producing a timeless film to be globally accepted and celebrated.
His grandparents, it was learnt, hailed from Oyo and Niger States, Nigeria.
When necessity called on him, Zack packed his things and relocated to Los Angeles where he revived his acting passion and studied the Meisner Technique at the Baron Brown Acting Studio.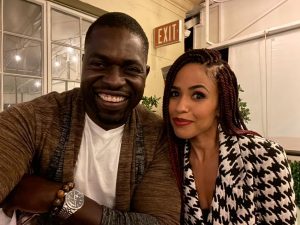 Currently, he is an active member of SAG-AFTRA, and has worked in multi-award winning Netflix Original film Trees of Peace written and directed by Alanna Brown and produced by RR Film Production.
He has also featured in various music videos such as Jennifer Lopez (On The Floor) and Kendrick Lamar & SZA (All The Stars, from the Black Panther soundtrack).
​
Zack's education and experience in both corporate finance and the entertainment industry have made him an invaluable associate producer with RR Film Production.
​
He is also a passionate fitness and wellness coach that received the 2010 Fitness Model of the Year Award by the Fitness Model International (FMI) and Clark Bartram.