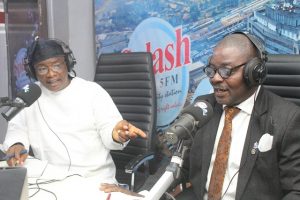 Last Tuesday, on the Parrot Xtra Hour on Splash 105.5 FM, Vice Chancellor of the Lead City University, Professor Aderemi Adeyemo revealed how the institution has been able to continue to expand. He also admonished the Federal Government of Nigeria on way to end the perennial Academic Staff Union Of Universities' (ASSU) industrial action in the country's public universities. Excerpts
Who is Professor Adeyemo?
By the grace of God, I am the Vice Chancellor of Lead City University, which is the first private university in Ibadan. It was established in 2005, we are 17years old now and to the Glory of God, we are doing very well, we are the best and presently, we have over 10 faculties. We have Faculty of Law, College Of Medicine, Faculty Of Pharmacy, Faculty Of Social And Management Sciences, Faculty Of Arts, Faculty Of Education, Faculty Of Communication And Information Sciences, Faculty Of Basic Medicals And Applied Sciences, Faculty Of Engineering. We thank God, and for where we are today, it is God that has brought us this far, it is not by our doing. I am also the Chairman of Association of Private University VCs and Registrars of Nigeria.
Briefly, what was life like during your undergraduate days?
During our own time, things were not like this, we had only public universities at that particular point in time. I attended the University of Ife now Obafemi Awolowo University, I attended University of Ibadan, I attended University of Nigeria and I did a program in Lead City University. I also attended a foreign university, Charisma University.
How did you actually get to become the VC of Lead City University?
That is a good question. You see, I have always wanted to be a teacher. I started my career as a secondary school teacher in Ile-Ife, before moving to Olode Grammar school, but Ife being a university community, I was able to use that opportunity to develop myself, after that I moved to Osun State College of Education, Esa-Oke as an assistant lecturer before I became a principal lecturer. Later, I moved to Ladoke Akintola University, before joining Lead City University in 2006 and I became the pioneer HOD of Accounting Department, and to the glory of God with the support of my governing council, the teaching and non-teaching staff, it was my department that was first granted accreditation from NUC and ICAN.
Later, the department was merged with Business Administration, Management and Accounting, and later got full accreditation for management and accounting.
Later, I was appointed as Director of part time program, I was also appointed as Vice Dean, Faculty Of Social Sciences in 2017. To the glory of God, I was appointed as the Deputy Vice Chancellor in November 2017 before becoming the acting Vice Chancellor in 2018 before later being confirmed as the substantive Vice Chancellor.
Can you tell us more about some of your achievements since you became the institution's Vice Chancellor?
Lead City University is a specialized university and all members of staff ranging from the principal officers, teaching and non-teaching staffs are friendly. Our doors are always opened for students to interact with us, unlike during my own days in the university, I saw my Vice Chancellor just during the convocation. In our institution, we deal with knowledge for self-reliance, we want our students to be job creators so that at the end of the day, they will be employers of labour and this is a recognition of the power of education and this has been our mission.The vision of the university is to contribute to the development of tertiary education in Nigeria by providing qualitative access to knowledge and training with innovative and challenging teaching techniques that guarantee a balanced education and we have been moving towards this. Our students are doing very well and most of our graduates are employers of labour and they are doing very well in their chosen professions and I am very proud to say that Dr. Kola Ladoke, your manager at Lagelu 96.7fm here is one of us, we are very proud of his achievements.
What is the process or what are the processes involved in getting admission into your institution?
Lead City University is a school of choice for any parent to enroll his or her ward. We want our students to be independent once they are done at our school and avoid searching for jobs. Our graduates are doing well in their chosen fields and some of them are currently members of staff of our institution. Some students in software engineering department developed an application that our students use in eating in school, it wasn't free, the university funded it. We have some graduate students that studied Nursing, Medical Laboratory Science who are currently working in the university's hospital. Our courses range from diploma, certificate to degree programs among others. Any prospective student for a degree program will apply through Joint Admission Matriculation Board, (JAMB) and pick our institution as the choice university and our school fees are affordable. Our admission hotline is 08153318708, 08061633228. For people based in Lagos, Ogun state, they can pick up the form and visit our liaison office in Lagos and can call the number 07044043333.
Our students upon graduation are given two certificates both in their field of study and in professional training they undertook on campus – it could be on tailoring, photography or based on their interest. We also have an institute which is known as the Institute Of Personality Development – and when our students are done, they will get their certificates on that. I want to reemphasize it that our students are of good behavior, they behave decently and responsibly. We also give them different trainings and invite people to the university environment to train our students.
How have you been promoting harmony in your University?
Many Nigerians believe that most private universities are expensive but our own is not like that. In our university, at least the council is so benevolent and we do not believe in charging outrageous fees and people can pay in installments. God is the founder of Lead City University and what God has placed his hands on, no man can disrupt. Our university is not a school for one religion, for those that are Muslims, there is a mosque for them and for the Christians, there is a chapel popularly known as Chapel Of Peace where they can worship. Our vision is to be one of the best and that is our next target now, to transform the university to global visibility.
Talking about the global visibility you just spoke about now, can you attempt to enumerate some of the partnerships you've been able to establish?
Our university has been getting so many awards and we were able to secure grants in 2018 from the United States of America. We won a grant worth over 100 million, we are one of the private universities in Nigeria that accessed it. I and three other lecturers went to the US to receive the award. Our workers and lecturers too are also getting grants from the World Bank and I even presented a paper at a World Bank-organised event and it was one of the best.
I will like you to talk about how you have been surviving the National Universities Commissions (NUC) accreditation hurdles?
In 2017, the Executive Secretary of the National Universities Commission, Professor Abubakar Rasheed, came to our university twice and he was really impressed. In fact, Professor Abubakar was so impressed to the extent that he told us that he had never seen a private university like this.We have full accreditations for all our programs and we have started our MBBS program, medicine, pharmacy, Pharm. D, physiotherapy and dentistry.
If you are given the opportunity, what advise will you give the Federal Government on how to permanently solve the issue of constant ASUU industrial actions?
I will appeal to the government to please find a lasting solution to this lingering ASUU industrial action for the interest of the Nigerian educational system because it is worrisome, it is uncalled for, for universities to be closed for more than eight months. I think the government should find practical approach.In terms of practical approach, I think we run a system and our own system is different. You cannot compare our own university with public universities in terms of ownership, but I think to a large extent the public universities have seasoned scholars. The governing council of each university and ASUU should come together and have a framework, you know you cannot compare the system of a federal university to a state university, the ownership differs and even the employees/employer relationship, teaching staff and non-teaching staff, I think there is need for university councils to have a framework to find an holistic way of trying to make sure that things work. I know lecturers must be paid and paid fully. I will never subscribe to a situation whereby the lecturers will just be treated shabbily. ASUU and the government should come out with a framework that will give us a very good blue print in order for the Nigerian university system will become more stable and vibrant. The Federal Government should fulfill its promise to ASUU and the situation whereby you sign an agreement and you fail to honour it is unfair.
I think the two parties are learning their lessons now, I believe that at least to a large extent, something positive will come out of it. What I am saying in essence is that the government should be sincere and make sure that the Nigeria University system works out. At least Nigeria is blessed, go to some of our public universities, we have great scholars that are globally recognized; the government should come up with a holistic approach to solve the ASUU problem. The governing councils of public universities also have roles to play and the strength of each university is taken into cognizance.