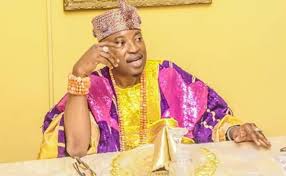 In his preparation for what he called a seamless new year, the Oluwo of Iwo, Oba Abdulrasheed Adewale Akanbi is set to host today a cross section of Iwo youths in his palace to mark the end of 2020.
Scheduled for 4:30pm, the gathering, relying on a statement by the Oluwo's Press Secretary, Mr Alli Ibraheem, is designed to rub mind together with the youths with a view to redirecting their energy to beneficial engagements.
Coming from the the aftermath of the October EndSARS protest, Oba Akanbi considered the process as necessary to rehabilitate the neglected youths whom, he stressed, had been derogatorily tagged as thugs and ensure they are transformed to positive agents of the society.
He stated that the era of raising thugs in Iwo is over, assuring redeemed youths  of his support for their career and warned those he labelled promoters of violence in his domain to look elsewhere for recruitment, declaring that the new Iwo is emerging where only peace will reign supreme to boost economic activities.
The Oluwo disclosed that efforts are in top gear to commit a special fund for youths rehabilitation, saying his era is purposely programmed to serve Iwo people, especially the vulnerable class like the aged and less privileged.
"I want to extend the same gesture to the youths who are called thugs. Some of these people are neglected and derogatorily judged as nuisance. As a father, I must ensure they are properly integrated into the system and progress of Iwoland.
"To achieve the rehabilitation target, I have set aside a fund to promote their talent. I want to host, wine, dine and exchange words of hope with them. The era of raising thugs is gone. The era is dead. I want to give promoters of violence in Iwoland a red card, and today is the day," he said.
Oba Akanbi added that the underprivileged, including orphans and widows, are also expected in the palace to join the youths to share dinner  with him and dance to current music.