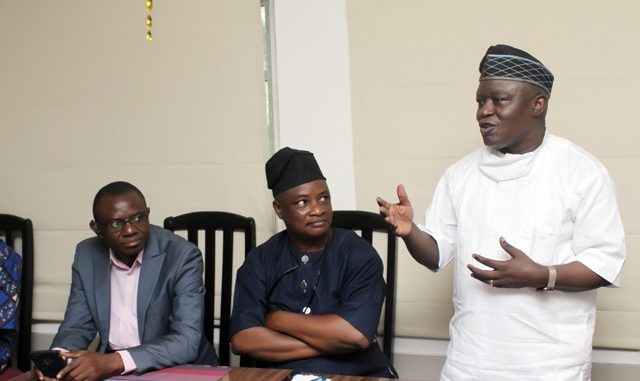 A Senior Advocate of Nigeria and politician, Chief Niyi Akintola has revealed that his Omole, Lagos residence was the meeting point for the notable All Progressives Congress (APC) governors, during the plot which successfully wrestled the South-west geo-political zone from the then governing Peoples Democratic Party (PDP) between 2007 and 2011.
While fielding questions from online journalists under the aegis of South West Group of Online Publishers (SWGOP) in Ibadan, the Oyo State capital, Akintola affirmed that he was not a green horn in the South-west progressives family, saying he had paid his dues, coming from the tutelage of the late Attorney General of the Federation, Chief Bola Ige.
He added that his relationship with the APC National Leader and former Governor of Lagos State Governor, Asiwaju Bola Tinubu predates that of many political figures conspicuously seen around him today.
Shedding more light on his claim, he said Tinubu attended the foundation laying ceremony of the Cottage hospital he built for his people during which Tinubu told him to prepare to be Oyo State governor.
"I told Asiwaju that I had a senior ahead of me, which was the late Governor Senator Abiola Ajimobi. That was the history of Ajimobi becoming the governor. I later led Ajimobi to Asiwaju in Lagos. If I was not a disciplined party man, I would have jumped at Asiwaju's offer, and that would have prevented my brother, Ajimobi from becoming the governor," he said.
On Senator Ajimobi's successor, Governor Seyi Makinde, Akintola admitted that the governor had so far demonstrated some flashes of a good governance, especially with his attention given to Ibadan satellite town of Ajoda, and Agbowo shopping complex, which, he recalled, was constructed by the military regime of Brigadier David Jemibewon between 1976 and 1978.
In a plain language devoid of ambiguity, Akintola stated that he would continue to commend Governor Makinde as long as he meets his expectations and those of the public, declaring, "I am not a disco critique who will not see anything good in his opponent. When he does anything good, I will commend him and when he does anything contrary to expectations, I will stand up to condemn him. At my level, I should stand firm on my conviction regardless of political affiliation. Everything should not be reduced to politics. That is how we can grow from here."