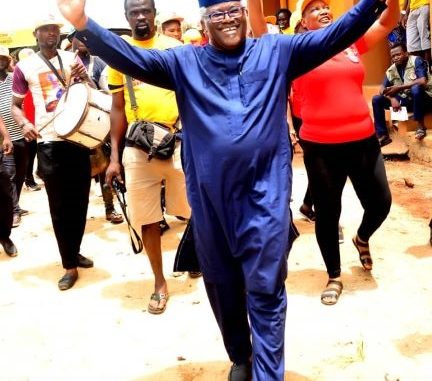 Supporters of Otunba Oluseyi Oduntan have risen in defence of their leader with declaration that at no time had he stepped down for a former Governor of Ogun State, Otunba Gbenga Daniel with whom he is contesting the Ogun East Senatorial District ticket under the All Progressives Congress (APC).
The Tabloid.net gathered that story of Oduntan's alleged withdrawal for Daniel was ruling the airwaves at the primary ground.
However, the Triple O Campaign Team has described the story as a mere fabrication and outright falsehood.
"Otunba Oduntan is very much in the race, he is the leading candidate and remains the man to beat in today's Senatorial primary election," it stated.
Oduntan urged the media "to always verify the information sent to them so as not to be caught in the web of falsehoods."
It added, "Meanwhile, it is a fact that some delegates have been held hostage at different hotels in Ijebu Ode and Sagamu. Some delegates have been sending SOS messages that they were tricked to attend a meeting in some hotels and they have refused to let them go.
"Many of them claimed to have been locked up at Conference hotels in Ijebu Ode and Sagamu as well as Grand hotel in Ijebu Ode."
Director-General of the team, Architect Oluranti Oresile, while analysing the development, revealed that Daniel and Governor of Ogun State, Dapo Abiodun come from Remo, also pointing out that Daniel is now claiming Omu on Odogbolu Local Government "where Femi Ogunbanwo has now emerged as the candidate for House of Representatives. So how can a Senatorial candidate emerges from either Remo or Odogbolu?"
Oresile further disclosed, "Also, Senator Lekan Mustapha is from Ijebu North Local Government where Honourable Adegbesan has emerged as the candidate for the House of representatives. How is it possible that both key positions can be placed in that Local Government?"
The DG concluded with verdict that "the ijebus will never allow this to happen. This is why the Senatorial seat has favoured Otunba Oluseyi Oduntan in the spirit of equity, fairness and balances ticket for APC going forward. Triple O will emerge as the Senatorial candidate from Ogun East."