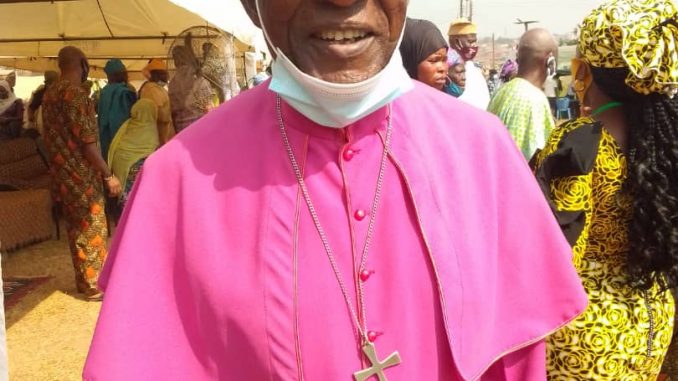 One of the living legends in Yorubaland is ArcBishop Ayo Ladigbolu, a retired Methodist clergyman, who is reputed for speaking truth to power at different for a. He is from Oyo, a prince and childhood friend to the Alaafin of Oyo, Oba Lamidi Olayiwola Adeyemi (III) who just clocked 50 years on the throne of his forebears. In an interview by TUNDE BUSARI, Ladigbolu recalled Oba Adeyemi's coronation ceremony and his early years in the palace. Excerpts
As a confidant to the Alaafin of Oyo, Oba Lamidi Olayiwola Adeyemi, I am interested in knowing the role you played in his emergence.
I could not play any role other than wishing him success during the protracted contest for the throne. I envisioned that if he succeeded being a young and educated man, Oyo would be better of, in the area of rapid development. And I thank God that our dream of that year has come to manifest now. The Oyo we have today during his reign is not that we had then. Things have changed for good, as regard physical and even human development. If you drive round the town, you will appreciate what I am saying, especially if you were around in the 60s. I was around, and I know the magnitude of physical transformation we have witnessed in the past 50 years of the Ikubabayeye. I can only wish him more fruitful years because his landmark achievements are quite unprecedented in the history of Oyo. And I am particularly glad that God choose him for us despite the long process during contest. But I have accepted that as part of cognomen of Oyo that Oyo is always first among equal; anything about Oyo is unique and must be unique because it is Oyo, the signpost of Yoruba nation.
Were you in attendance during the coronation ceremony at Durbar Stadium on January 14, 1971?
I was physically present at the occasion, making it the second time I would witness coronation of an Alaafin.
Really?
Yes, I was in my 20s when Oba Adeyemi's predecessor, Oba Gbadegesin Ladigbolu, was crowned too. On that day, January 14, 1971, I was part of the teeming crowd who were watching the proceedings. I can say I was a spectator and co-celebrant, according to my relationship with Kabiyesi as a member of the royal family. That was the only role which one could play because we had so many eminent personalities from different parts of Yorubaland. It was a very colourful and most beautiful coronation ceremony in Oyo.
Can you recall some of those distinguished personalities who came to witness the ceremony?
There are many of them. Let me even say that the focus was more on the Alaafin and the Military Governor of Western State, Brigadier Adeyinka Adebayo who was dressed in complete military ceremonial uniform. He was a delight to see in that beautiful appearance.
You said your expectations in Oba Adeyemi were high being a young and educated traditional ruler. Has he met the expectations?
Personally, he has met my expectations but I cannot speak for others because we are not comparing notes. In truth, all my expectations have been met. We were able to sustain our age-old relationship till today. We are as closely as possible. Even when distance became inevitable; when I traveled abroad for further studies in the US, we still maintained our regular contact through exchange of mails. In other words, when distance became inevitable, we were able to close the gap. I was not in the dark of what was going at home.
How did Oba Adeyemi's early years on the throne look like?
It is natural to witness some elements of problems associated with changing of environment like adaptation but he was up to the task because he was naturally a strong willed person before he became the Alaafin. He loved to take on challenges and turned it to his strength. So, there was no problem in tackling those early challenges on the throne.
What was the state of the palace when he came?
You can imagine how the palace would look like then when contest to the throne took about three years. The truth is that the long period of contest took its toll on the physical structure of the palace; it was not in a good shape. The first assignment of the Alaafin was to fix the palace to his taste as educated and urbane man who just relocated from Lagos. Essentially, his early years on the throne required adjusting and readjusting. Don't forget, he needed to be comfortable and presentable as eminent paramount ruler. He also spent his early years getting to know his class of kings and familiarize with them. I can say that he did a good job in his adjustment, reorientation and challenges on his new status. He acclimatized well and bonded quickly with the people and environment.
You just mentioned challenges. What are those challenges?
He met a challenge in the politics of that time. The town was divided into two hostile blocs; we witnessed politics of bitterness. In fact, it was the order of that period. But as the Alaafin, he would not sit back, fold his arm and allow such bitterness to fester' he needed to respond fast, and that was what he did. He was able to come up with superior ideas which eventually brought an end to the problem. It was tensed then that we had two central mosques and two prayer grounds, which translated to having two chief imams in the town. But God gave him the best of wisdom and good people to sit round the table and resolve the matter.
What can you observe to be his strong point?
He is blessed with gift of articulation and sharp retentive memory. He has a very unusual ability to recall names, faces, dates and events without any difficulty. Let me say God blessed him with a photographic memory, He sees something and it sticks to his brain to be recalled later. He is also gifted with how to manage human beings. It takes a lot of wisdom to rule, and he has succeeded in that area too. He needs to be thankful to God for all these gifts which are not given to everybody. He needs to be thankful too for being the youngest Alaafin in history and the longest on the throne. There might be mystical story of kings who reigned for 100 years. We did not witness those reigns but we are witness to Oba Adeyemi's half a century on the throne. This calls for celebration. That is why I said he should be merciful, and move closer to God for this gift of life. There is no doubting the fact that he has lived a good life; he has set a standard to be referenced in all ramifications. He has elevated Yoruba nation among other ethnic groups even beyond Nigeria. Whenever and wherever Alaafin speaks, you will be proud to be a Yoruba man.
What would you tell him in private as he steps into a second half of a century?
I will tell him to be merciful. I will tell him that 50 years is symbolic in the biblical understanding; it is a year of jubilee when God told the Israelites to set free all the captives and give them freedom to move without hindrance. I will tell him to forgive whoever has offended him. I will tell him to work harder on Yorubaland to obtain freedom from all forces which have been holding them down from making progress. God destined Yoruba to be greater than this. So, Alaafin needs to work harder to obtain freedom from all road blocks which have been preventing Yoruba nation from reaching their God-given goals.