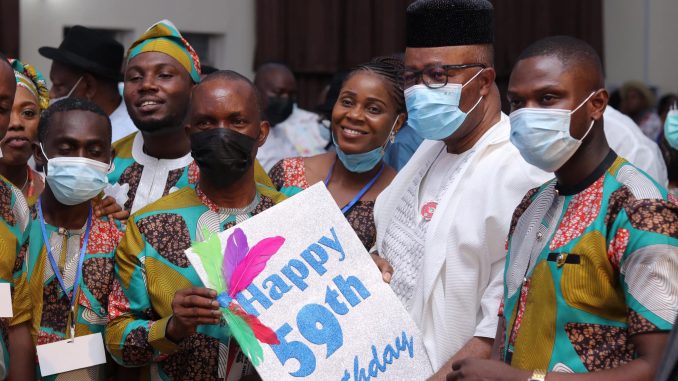 In the spirit of his 59th birthday, Minister, Niger Delta Affairs Ministry, Senator Godswill Akpabio, has revealed what he called secret behind transformation recorded in Akwa Ibom State during his two-term administration.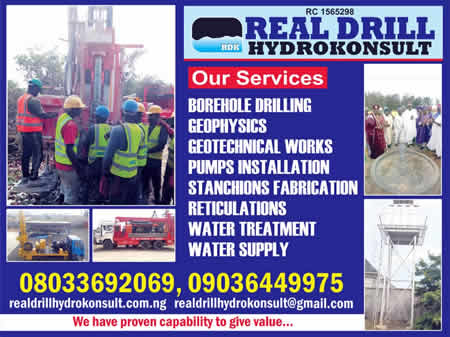 Akpabio said his relationship with God and act of gratitude to Him though regular worship informed favour he had received to change face of the state.
A statement by his Chief Press Secretary, Jackson Udom, quoted Akpabio while speaking at the Carol Service organized by the St. John Paul 11 College, which also coincided with his 59th Birthday Celebration in Uyo, the Akwa Ibom State capital, on Thursday.
The former Senate Minority Leader said, "I am celebrating with you today for the first time. I want to thank you immensely. As you celebrate me today, you will also be celebrated. In life, not everybody must appreciate you. If you are a friend to everybody on earth, then you will not become anything."
"Even in your family, you cannot be liked by all. If Joseph was not sold by his brothers to the Egyptians, he wouldn't have become the Prime Minister. The brothers needed to conspire to sell him. Unknown to them, they were paying transport fare for Joseph to go and fulfill his destiny in Egypt. You must not be liked by everybody in life. The Bible says 'Rule thou in the midst of your enemies'. It didn't say you should rule in the midst of your friends," he stressed.
Akpabio also told the students, "when you hear people mention Godswill Akpabio in a derogatory manner, it means Godswill Akpabio is a leader, because it is only leaders that rule in the midst of their enemies. Focus on what you are doing, believe in yourself and know that God is with you and it doesn't matter who is against you. One with God is a majority. You must ever remain a grateful heart and never forget your foundation."
He advised students to always put God first in whatever they do because no one succeeds without Him. "You must at all times, recognize the place of God in all you do. Allow God to lead you in whatever you do. In your examinations always know that He is with you. God be with me, should always be your watch words."
The minister disclosed that the 9999 Carol Service that held annually throughout his administration was the key that unlocked the doors for the uncommon transformation of the state from 2007- 2015. "It was an event that opened heavenly blessings upon the state and that was our little way of showing gratitude to God for all the blessings upon the state. That was the secret behind what we called Uncommon Transformation".
There were various events to mark the 59th birthday celebration of the legal practitioner cum politician in different parts of the state. The day kicked-off with a phone-in quiz competition in four radio stations, where prizes were given out to members of the public who gave correct answers to questions.
Other activities included a Thanksgiving Mass at St Ann Cathedral, Ifuho, Ikot Ekpene, Leadership Round Table Lecture and 10,000 man March in Ikot Ekpene Senatorial District of the state