Both executive and legislative arms of Ejigbo Local Council Development Area, Lagos State, unanimously rose in honour of the Divisional Police Officer of Ejigbo Division, Olabisi Okuwobi, a Chief Superintendent of Police.
They described her as a woman whose work rate matches and occasionally surpasses that of her male counterparts in policing.
At a brief presentation held in Okuwobi's honour in the council secretariat, her performance was described as distinctive, outstanding and inspiring, hence the award bestowed on her.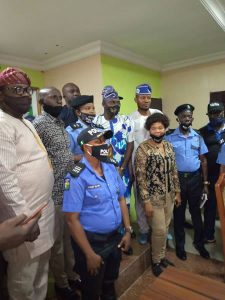 The award attracted other benefits to the division, including offer to fuel operational vehicles for the duration of the DPO in the area.
The head of the legislative arm, Mr Olanrewaju Akinbowale, declared that the offer was meant to encourage men and officers of the division and beyond to borrow a leaf from Okuwobi in their respective service.
The offer, he maintained, was also to boost the morale of the DPO "who has changed the face of policing in our area and made governance easy for us, as against what obtained in the past."
The DPO expressed her gratitude to the LCDA and stressed that the honour was not just an additional feather to her cap, but also a call for greater productivity, emphasising that the council leadership and, indeed, the people of Ejigbo, had boosted her belief that community policing was realisable.
"I am really short of what to say at this pleasant ambush you laid for me. The honour means one thing: More work to sustain the faith and confidence you repose in our division. Thank you, all," she remarked.