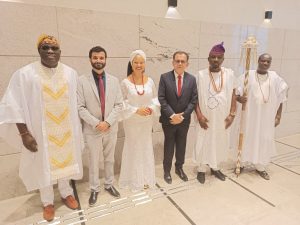 The Ooni of Ife, Oba Adeyeye Enitan Ogunwusi, has lauded the new President of Brazil, Luiz Inácio LULA da Silva, for his love for the African people and his vow to integrate Afro-Brazilians in the inner system of his adminstration.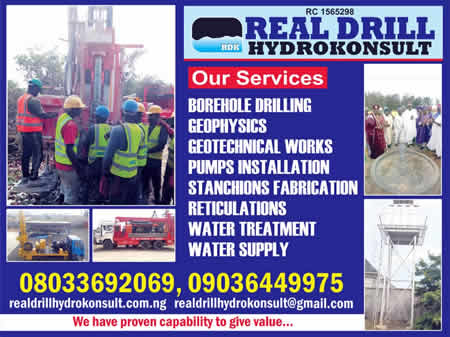 Doing so, he said, would be unprecedented in the lives of Afro-Brazilians, for which the African people worldwide would give his government unflinching support.
Oba Ogunwusi, who doubles as Co-chairman, National Council of Traditional Rulers of Nigeria (NCTRN) made this assertion during the inauguration ceremony of President in Brasilia, the capital of Brazil on Sunday.
The monarch was represented by a four-man delegation led by his Director of Media and Public Affairs, Otunba Moses Olafare who spoke to the Brazilian and other world media at the occasion.
"His Majesty, the Ooni of Ife is delighted to have been invited to this Epoch event for the inauguration of president LULA who is our in-law in Africa. The Ooni of Ife who represents African monarchy which is the world's oldest monarchy would have been here himself but because today coincides with some Oduduwa Festival activities in Ile-Ife, the cradle of mankind, he decided to send us here," he said.
On the significance of the emergence of Lula, the Ooni, in an interview by his spokesman, praised the new Brazil's leader for his pan-African speech in which he vowed to work for the masses, the African Brazilians and productively partner with the African continent for development, especially in area of cultural tourism and traditional religion.
"Well, the new president is obviously a man of the masses, he's a lover of Africa and as you may have heard him in his inaugural address here today, he has a plan to engage in productive partnership with the African continent and ensure adequate participation of the African Brazilians in his government administration.
"This to us is very significant, don't forget that Africans represent not less than 60% of the population in Brazil, so, if that's what he has come to do, then, the entire African people worldwide will support him, if a government is about the masses here, it means that government is for Africa.
"Of course Lula has always been one of us in Africa, that's why you see that the continent is well represented here today; Angola, Ghana, South Africa, Tanzania, Kenya, Nigeria and the rest, we are also here as a royal delegation representing the African monarchy which is the oldest monarchy in the world to identify with Brazil, particularly the LULA's presidency which promises to focus the on the masses and African partnership, and we are in tune with that," Olafare said.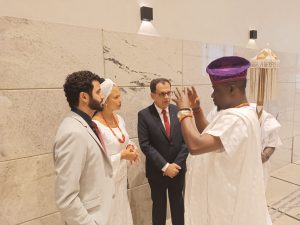 Accompanied by the House of Oduduwa's Ambassador to Brazil & South America, Mr Ajoyemi Osunleye, Ooni's Liaison Officer in Brazil, Carolina Maira Morais and Emese Seun Arasanmi, bearer of the Ooni's Symbolic Royal Staffstick, leader of the Ooni's team, Otunba Moses Olafare earlier the same day, held a scheduled meeting with two Federal Legislators who were members of President LULA's Inauguration Committee; Hon. Reimont Luiz Otoni Santa Barbara,
representing State of Rio de Janeiro, Promoter of Twin City Law between Rio and Ile-Ife and Hon. João Miguel representing Minas Gerais State at the National Assembly in Brasilia before leading the Ooni's delegation to the venue of President LULA's inauguration ceremony.
It was an emotional moment when the newly appointed Minister for Human Rights and Citizenship, Professor Silvio Almeida, an Afro-Brazilian, walked to Olafare and gave him a warm embrace.
He exclaimed, "Oh my God!!! You were sent by my home continent to witness my swearing in ceremony as Brazilian Minister in charge of human rights and citizenship!!!. "This indeed is the Greatest of all the Gifts I've gotten today.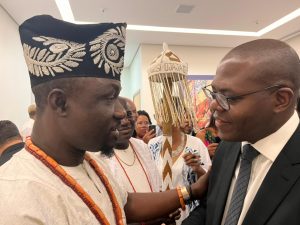 "Please tell our people back home that President LULA is a Pan Africanist who is ready to support Africa. Please tell them that he has now made one them the minister in charge of human rights and citizenship and please assure the King Ooni of Ife, I will not let him and my home continent down as I will use the necessary constitutional power given me by my President to protect rights of our people and protect our traditional religions just same way the rights of all peoples of Brazil and their respective religions will be adequately protected."