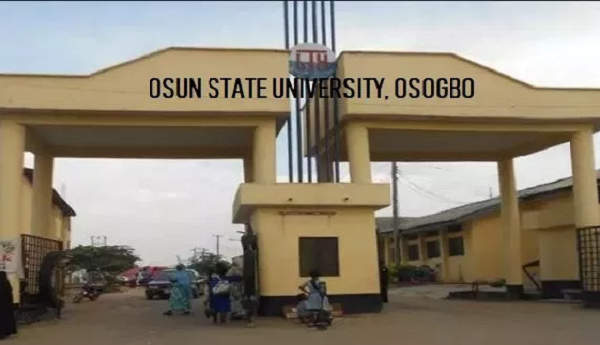 The Osun State University Alumni Association has picked holes in a statement credited to the Vice-Chancellor of the university, Professor Labode Popoola, in which he allegedly described the university in words found offensive by the ex-students.
In a recent interview, the vice-chancellor opined that the university he had met on his assumption of duty was a substandard institution which lacked academic culture, discipline and transparency, and where anarchy walked on two legs.
However, the alumni, in a release issued yesterday in Osogbo and signed by its President, Mr Oriola Kabir and Secretary, Mr Abubakar Abdulbasit, stated that from the take-off point of the school in 2007, it was an organised society peopled by well-cultured students and staff, adding that it had maintained a reputation of a world-class institution known for what it called a mill for cutting-edge academic research, innovation, and knowledge production.
"This is not only contained in the dreams of the founding fathers but is also glaring through several academic feats, awards, and laurels achieved by the University within the first few years of its establishment.
"Stating that he didn't inherit an organised institution is a claim very far from the truth. The students and the leadership of the institution hold dearly the mission statement of the University which reads thus; "Producing Globally Competitive Graduate," it said.
Specifically, the body pointed out some performances of its members in foreign universities, especially Ukraine where they had completed their medical programmes with exceptional results.
"Again, these were students whom Professor Popoola never had any input in their academic journey. Some of these students are Miss Lateefat Oyeleye Abiola who emerged as the best graduating medical student not only at the V.N Karazin Kharkiv National University where she studied but in entire Ukraine; and Motunrayo Oluwasayo who also bagged the award of the best-behaved student at the V.N Karazin Kharkiv National University," it also stated.
The association added that the university repeated the same feat with another set of two students; Mustapha Lateefah Kemi and Adebayo Rukayat Abiodun coming out as students with highest and second-highest scores in their final medical examinations.
In view of above references, the alumni demanded retraction of the statement for the interest of the institution's image before Nigerian public and global academic community.
"Therefore, Professor Labode Popoola owes our association, Osun State University Alumni Association; the founding fathers of the university, past management staff, academic and non-academic staff members and other relevant stakeholders the moral responsibility of retracting his highly malicious, misleading and ahistorical statement about Osun State University."