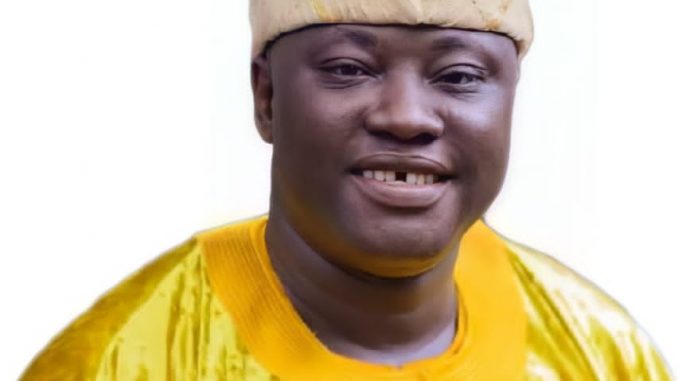 The Adeitan Atiba Ruling House, Oniyun Compound, Oyo, has formally signified intention to become the next Alaafin of Oyo by submitting name of its nominee.
Through a letter dated 23 June, 2022, the ruling House submitted the name of Afolabi Adesina Ademola to the Oyomesi Traditional Council, Oyo Alaafin, as its candidate for the vacant stool.
Adeitan Atiba Ruling House, in the letter through Baba Iyaji of Oyo, Iyaji Quarters, Oyo, said its decision was in line with the Atiba Descendants Chieftaincy Declaration (Ref Number 486/55, dated 8th December, 1976).
The letter was titled "Nomination Of Afolabi Adesina Ademola As Our Candidate For The Exalted Vacant Stool Of Alaafin Of Oyo".
The letter was jointly signed by Afolabi Saheed Babatunde, Aderounmu Isiaka, Musbau Eboade, Aderounmu Afeez, Tijani Rasheed, Adesetan Adesina, Afolabi Babajide Olusayo, Afolabi Oluwasegun Adepoju, Tijani Risikat, Tijani Adekunle, Tijani Sikirat, Tijani Quadri and Limota Eboade.
"We, the descendants of Adeitan Atiba of Oniyun Compound, Oyo West Local Government, Oyo, hereby nominate and support the candidature of Afolabi Adesina Ademola for the vacant stool of Alaafin of Oyo.
"This is in line with the Atiba Descendants Chieftaincy Declaration, with Reference Number 486/55, dated 8th December, 1976.
"Our candidate, Afolabi Adesina Ademola, is the son of Joseph Abimbola Afolabi, the son of Eyinade Adeitan Atiba. His great grandfather, Adeitan Atiba, was the son of Olori Aworonke.
"Afolabi Ademola Adesina was born on the 23rd April,1980, at Oniyun Compound, Oyo. He attended Baptist Day Primary School Isokun (1984-1990). He proceeded to Ansar-U-Deen Grammar School, Opapa, Oyo for his Senior Secondary School Education (1990-1995).
"Afolabi Ademola Adesina attended Kwara State Polytechnic Ilorin for both his Diploma and Higher National Diploma in Public Administration (1999-2005).
"He thereafter attended Cooperative Intenerant Secretary Course at Cooperative College, Akunlemu, Oyo (1998-1999). He is undergoing an LLB programme in the West African University, Cotonou, Benin Republic (2018 till date).
"He is an entrepreneur, industrialist and great investor. Afolabi Ademola Adesina is the Chairman/Chief Executive Officer, Tandemol International Limited, dealing with underground water drillings, constructions and water management system.
"He is also into building and construction works with presence in Nigeria, Benin Republic, Togo and Burkina Faso.
"His company is into Business Development and Consultancy Services, with presence in Europe and is, at the moment, partnering with some federal ministries on projects development.
"Afolabi Ademola Adesina is the founder and Chairman/CEO Ogboja and Co Nigeria Enterprises, a business establishment that is into land and property management and consultancy services.
"The company also deals with concrete block making, productions of well rings and concrete poles, among others. The company is situated at Ayoola Street, besides Redeemed Christian Church of God (RCCG), Kosobo-Awe Road, Oyo.
"He is a silent philanthropist with education support activities and other support initiatives.
"He is a youth development advocate, having served in different capacities as students' union leader and leader of several youth organisations and movements.
"These include Projection Secretary of the Students' Union Government, Kwara State Polytechnic Ilorin (2002/2003 Academic Sessions); Head of Publicity Committee, National Association of Nigerian Polytechnics Students (2002-2003); NANS factional Senate President (2002-2005); Director of Students and Youth Mobilization for IBB Vision 2007.
"Afolabi Ademola Adesina was the chairmanship election standard-bearer of the Peoples Democratic Party (PDP) in 2017.
"He served as Special Adviser (Media) to Senator Teslim Folarin (2011-2019). He was appointed Principal Private Secretary/ Legislative Aide to Senator Teslim Folarin (2019 till date)," the letter read.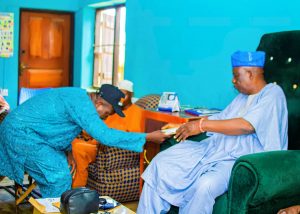 The Adeitan Atiba Ruling House further said its candidate, as the Mogaji of Adeitan Royal Family (2019-April 2022), underwent tutelage and gained a lot of experience in culture, tradition and understand of Oyo chieftaincy institution, core values and cultural heritage.
"For his community development activities and youth empowerment advocacy, he has received numerous awards and honours since his student days.
"Afolabi Ademola Adesina has the potentials, experience and exposure to accelerate growth and development in Oyo. He is well positioned to promote our culture, tradition and values.
"Given his wide experiences in community development and social services, he has the energy and pedigree to make Oyo greater than it is, in terms of educational advancement, industrial development, economic growth and value reorientation.
He will promote peace, unity and tranquility at all times, if he is enthroned as the next Alaafin of Oyo. Afolabi Ademola Adesina is happily married and blessed with children.