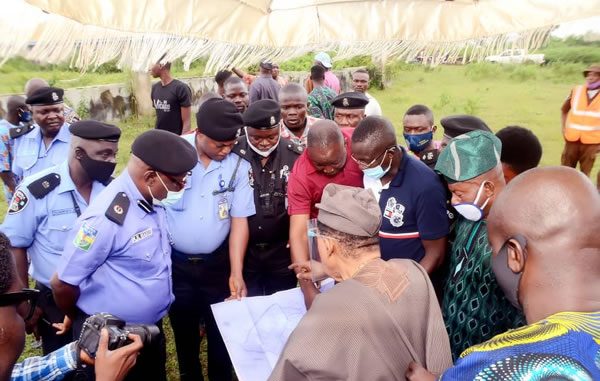 The Alaafin of Oyo, Oba Lamidi Olayiwola Adeyemi surprised a team of policemen on the trail of suspected kidnappers allegedly operating on an uncultivated large expanse of land at Oko-oba extension along Akinmorin/ Idi-Igba road in Oyo-East Local Government Area of Oyo State.
Oba Adeyemi while hosting a team of senior policemen, joined his guests and headed to the suspected kidnappers' hideout located on about 100 acres recently discovered by the Special Intelligence Bureau (SIB] Department of the Nigeria Police Force, Afijio Divisional Police Command, in the Afijio Local Government area.
It was reliably gathered that on Sunday some unidentified people on motorcade stormed the ancient town of Oyo and headed towards the forest.
Sources confirmed that the suspect had commissioned a bakery to supply about N10, 000 worth of loaves of bread.
It was also learnt that following a tip-off, they were traced by detectives from the Afijio Divisional Police Headquarters notified the Divisional Police Officer, Odusina Julius Bolarinwa, a Superintendent of Police, who, in a swift response, informed the Oyo Area Police Commander, K.R Madayi, an Assistant Commissioner of Police, for prompt action.
According to the DPO ''on Monday morning, the Area Commander mobilized all the five Divisional Police Officers under his command, including men of the Operation Burst, and some men of the Vigilante Group of Nigeria (VGN), who combed the forest.
''Although no one was found in the forest, but there were traces of footsteps and evidence of settlement by the suspected criminals''.
In the same vein, an accredited Surveyor to the Alaafin, Kayode Afolabi informed that he had received reports from some residents about the forest being turned into kidnappers den, adding that he reported the matter to the police with a view to finding a lasting solution to the matter.
Consequently, all Divisional Police Officers accompanied the Area Commander to the palace of Oba Adeyemi to update him on their findings.
The traditional ruler then joined the team in a motorcade to the forest, during which he eulogized the team for their pro-activeness, diligence, patriotic zeal, the sincerity of purpose and mutual co-existence in checkmating crimes and criminal activities in the metropolis.
The Alaafin also pledged to ensure that the dreaded forest is cleared with bulldozers, while the police would be assisted with logistics to aid their smooth operations.
Earlier, the Area Commander had called on the Alaafin to assist in the clearing of the forest and provision of
new patrol vehicles.