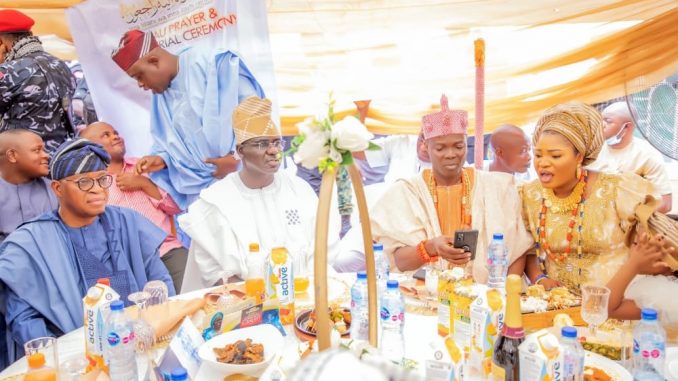 Public expectation before the final burial for the late Alhaja Musiliat Anike Igbalaye was northward. That was so because Igbalaye is one of foremost linages in Osogbo by the courtesy of the patriarch of the family, who was the Bobagunwa of Osogbo, Chief Rasheed Adejare Igbalaye.
Chief Igbalaye shone like northern star in the 70s in Osogbo as a successful printer and proprietor of the defunct Igbalaye Football Club of Osogbo. He later rose to become president of the Osogbo Progressives Union (OPU) aside having earlier served as financial secretary to the legendry Oroki Social Club, a hangout for the then young men who earned a mention in the late Apala maestro, Alhaji Haruna Isola's vinyl in 1971.
On the strength of this rundown, it was like all eyes were on the Igbalayes to roll out the drum in celebrating life and times of their departed Alhaja Igbalaye, who breathed her last precisely on January 28, 2022 at a private hospital in Osogbo. And the family did not lose sight of that anticipation and went all out to preserve the family image; they picked special Ankara fabrics to be worn by their guests at the occasion holding at the playground of the Technical College, Osogbo along the now shrinking Ede road in Osogbo.
A day to the very glamorous revelry, the family hosted a group of Islamic Scholars led by the notable Chief Imam of the Afonta Central Mosque, Osogbo, Sheik Abdulwahab Baani, who admonished the attentive congregation to live a forthright life, for which Alhaja Igbalaye was reputed. The scholar sang the praise of the Olowu of Kuta, Oba Adekunle Oyelude Makama for standing by the family like a mainframe, especially when the news of Alhaja Igbalaye's passage broke, saying God had designed it perfectly to take Oba Makama to his wife, Olori Fatimo Makama in France to comfort her at that moment of mourning her mother.
Greeted with a complete silence, Baani, who stressed significance of mother, referencing in Prophet Muhammed's days, also told Igbalaye's family of need to work for unity, which he insisted, was what they require to preserve the name of their late parents. He creatively played on three famous names in Osogbo -Atimowa, Oreofero and Matanmi- to further teach some moral lessons about life and rounded off the well-attended programme with prayers for repose of souls of the deceased and long live for the living.
About 24 hours after the Islamic scholars departed the venue, preparation for the social resumed immediately with rental service boys mounting their canopies on the expansive field of the Technical College, Osogbo. No space was spared from the entrance to the exit of the premises. The day hardly broke when guests in twos and threes, on feet and in vehicles, were strolling to the field in their Ankara fabrics.
The ace tungba musician, Dr Yinka Ayefele and the Asakasa fuji king, Agba Akin Akande Obesere had earlier been engaged to entertain the guests. However, Obesere, who was scheduled to enliven the royal family guests, was conspicuously absent to the dismay of community of his disappointed fans in Osogbo and neighbouring towns.
"Papa should not have done this now. We all know he is close with Oba Makama. Wasn't Oba Makama that saved his face when he was denied the Agba Akin title in Ibadan, his hometown, about three years ago? To say the truth, I didn't expect this disappointment from him; I travelled all the way from Iwo to come and enjoy his music here, a middle fun lover, who identified himself as Ade, an auto-mechanic, protested.
The Tabloid.net gathered that Obesere's hands were tied on that day having been also engaged for the Olubadan's coronation party at the Ibadan Recreation Club, Sabo, Ibadan alongside Evangelist Ebenezer Obey. To fill the void, he then struck an understanding with an Ibadan-based fuji musician known as Bola Bollington, whose performance loosely re-enacted Obesere's show. But Ayefele's voice and sound submerged their area of coverage such that Olori and Oba Makama and Olori went had to dance on his floor.
The party underscored the Olowu's detribalized inclination as guests from different sections of the country turned out in good number at the occasion. A group from the Northern part of the country was led by the former Chief of Army Staff, now Ambassador to Benin Republic, Lieutenant General Tukur Buratai. Buratai physically blended with the occasion in his flowing agbada matched with a Yoruba cap. His presence was complemented by some army senior soldiers, including the General Officer Commanding 2 Division, Ibadan, Major General GU Chibuisi.
Against this backdrop, security situation within and outside the venue was watertight. From politics family, members of the governing All Progressives Congress Party (APC) and the opposition Peoples Democratic Party (PDP) converged and mixed freely with one another.
The incumbent Governor of Osun State, Alhaji Gboyega Oyetola and former Governor, Prince Olagunsoye Oyinlola were seen together in a friendly ambience as their supporters too were exchanging pleasantries.  Oba Makama's primary constituency, which is gathering of traditional rulers, was noticeable with royal fathers from South-west states including Kwara turned out in their colourful attires in honour of one of them, whom they said hardly missed such function of his colleagues.
The Onigege of Igege, Oba Kazeem Adio said Oba Makama was known for his consistency in socializing and identifying with other traditional rulers as occasion required of him.
"Olowu Kuta will always have this kind of presence at his occasion even if he has another function tomorrow. He is not discriminate in any way. He is a king who is always available at his colleagues' events.
An academic, Professor Siyan Oyeweso, was also in attendance in a flowing agbada guinea brocade; He submitted that Oba Makama had proved to be an exposed and sociable traditional ruler whose functions would attract a large attendance. "Kabiyesi is indiscriminate in his relationship to people around him and beyond. Such a person will naturally have those people rallying round him at occasion like this," he stated.
The Alaafin of Oyo, Oba Lamidi Olayiwola Adeyemi was scheduled to also attend the party but, according to a finding, could not make it due to his overlapping events for the week, which required him to heed medical advice to observe rest at that weekend. The Olu of Itori, Oba Abdulfatai Akored Akamo was also absent, because, according to a letter addressed to Oba Makama, the day coincided with his 18th coronation anniversary held simultaneously in his Ogun State town.
Oba Akamo's letter, dated March 5, 2022, read: "My Baaroyin Tunde Busari brought your invite when I was also looking forward to have you as a royal guest at my 18th coronation anniversary in Itori here. As the wonderful God would have it, my anniversary coincides with your in-law final burial in Osogbo on the 12th March, 2022. It is my prayer that we shall have cause to share more good moments together while I wish you a successful outing."