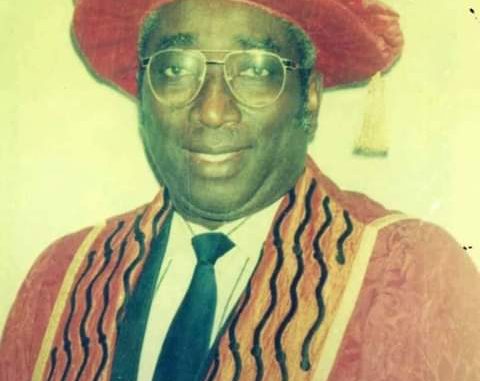 Fatiu Ademola Akesode, the Vice-Chancellor, Lagos State University (February 1997- March 30, 2001) was lowered into mother earth at Abari Cemetery at exactly 4.10 p.m. on Saturday, 31st March, 2001.
Yet, Friday, 30th March, 2001, was a very normal day. I left from my Festac Town Residence for No.15 Osborne Road Residence of the Akesodes. At about 11.00a.m., we both left in his official car for Shepherdhill Baptist Church, Mile 7, Ikorodu Road, Obanikoro, Lagos, venue of the Thanksgiving Service for the 60th birthday anniversary of the Hon. Commissioner for Education and media guru, Dr. Idowu Shobowale. Prof. Abisogun Leigh, the Deputy Vice-Chancellor, LASU, and Mr. Kunle Odufuwa, a media consultant, also came enroute Ikeja, for the ceremony.
At the church ceremony, Prof. Akesode was vibrant and full of smiles. He exchanged pleasantries and cracked jokes with friends and associates whom he had not seen for quite some time. At the end of the church service, we left for the open air field, near the Baptist Church, where the guests were billed for entertainment. Members of the LASU Governing Council and senior university officers all sat under the main canopy provided for the celebrant of the day.
As the event went underway, Prof. Fatiu Akesode and his Deputy, Prof. Olubode Abisogun Leigh took pictures with the celebrant. Alongside members of the Governing Council, I also posed for photographs with the celebrant and his lovely wife. In a way, that was the last photograph taken by Prof. Akesode before his journey into the world beyond. His death and the anniversary of the birth of Prof. Idowu Shobowale had been inextricably linked by destiny.
On that fateful Friday, there was nothing in the air to suggest that Prof. Akesode was about to keep an appointment with Angel Asarail, the messenger of death. All I knew then was that a few days before that Friday, he had been complaining of a nagging headache which was suspected to be migraine. A close family friend and a medical doctor, earlier pressured him to take some pain-relieving drugs and he reluctantly took the recommended dosage of Calvergot. That was on Wednesday, 28th March. As the birthday party progressed, we were all served food and drinks. Prof. Akesode could not eat much. He just used his fork to pick some vegetable and meat. I noticed a general feeling of uneasiness around him. He was certainly not very comfortable.
This was about 6.30 p.m. I tried to ask him what the problem was but he just muttered some words. He certainly did not want to be disturbed. Anytime he wanted to be alone, he had a peculiar way of disarming one. All of a sudden, he just stood up and decided that we should take our leave. Within the twinkle of an eye, he had walked to the place where his car was parked by the Driver, Mr. Jimoh. Prof. Bode Leigh, Mr. Kunle Odufuwa, his security detail, Banji, and I rushed to catch up with him beside his car.
As we moved close to him, I noticed he was avoiding eye contact with us. Nonetheless, I still summoned enough courage to tell him that all was certainly not well and that he was not looking fine. I noticed that his eyes appeared whitish and his hairs fluffy. I told him he needed the services of his barber and a good rest. I also insisted that he must see his doctor at Eko Hospital, Ikeja which he promised.
Prof. Bode Leigh and I left the venue of the party for our different destinations while Prof. Akesode, Mr. Odufuwa and Banji left to keep appointment with his physician. At about 2.00 a.m. in the morning of Saturday, 30th March, my Intercellular Mobile Phone rang persistently. Muhammed Kelani, my computer operator, picked up the phone and woke me up. The caller was Mr. Kunle Odufuwa who accompanied the Vice-Chancellor to the hospital. He was simply crying like a baby. The message was that Prof. Fatiu Akesode was dead. I was shattered! My mentor, my adopted father, was gone. Fear gripped me. I could not sleep again. My mind roamed and roamed about the mystery of life and death.
There and then, I decided to contact some key allies and friends of Prof. Akesode. The first person I phoned was Dr. A.O.K. Noah, Provost of Adeniran Ogunsanya College of Education, Ijanikin. He was simply devastated. Next I got in touch with Prof. Muhib Opeloye and Dr. M.O. Raheemson of LASU Muslim Community of which Professor Akesode was a prized value. I also told them that they should immediately inform Prof. Peter Akinsola Okebukola, Akesode's predecessor in office, a valued friend and a man who had great personal respect for Akesode. I also called Dr. Sunday Otokiti. The message to all was that we should endeavour to meet at about 6.30 a.m. at the family residence of the Akesode at 77, Adefowope Street, Off Association Avenue, Ilupeju-Lagos, to console the family and to assist the family put in place the necessary machinery for a befitting burial.
Bad news spread like wild fire. The news of the sudden demise of Prof. Akesode reverberated throughout the nooks and crannies of Lagos State and by 12.00 noon, it was a news item in local and national media. His primary constituency, the Lagos State University, also wore a very sombre look. It was also very a sad day for his friends and colleagues in the medical profession, particularly at the University of Lagos College of Medicine, Idi-Araba and Obafemi Awolowo University, College of Health Sciences, Sagamu, where he had served as the Provost/Chief Medical Director. But more devastated by the news was the Akesode nuclear and extended family and the Ansar-Ud-Deen Society of which Prof. Akesode was one of their leading lights.
By 10.00 a.m., the burial plan was unfolded by the family. At 12.00 noon, a joint special session of the Governing Council and Senate was organized a season of tributes to the departing Vice-Chancellor. The special session was a session of great mourning, emotions and despair, not only because of the sudden demise of the Vice-Chancellor but the stark reality of the eternal loss of a figure with a big heart and good vision for the university. Speaker after speaker spoke from their hearts about the essence and the loss of Fatiu Ademola Akesode.
The Chairman, Governing Council, Prof. Femi Deji-Pearse led the way by requesting for a two minutes' silence for the repose of the soul of Prof. Akesode, followed by a short prayer offered by Prof. Muhib O. Opeloye of the Faculty of Arts. A letter of condolence, describing the late Vice-Chancellor as hardworking, kind and generous, from the Onijanikin of Ijanikin, Oba Momodu Afolabi Ashafa, was read to the hearing of the Governing Council and Senate Members.
Thereafter, members of the Governing Council and Deans of Faculties were requested to pay their tributes to the late Vice-Chancellor. According to Prof. B.B. Oderinde, "the late Vice-Chancellor was very kind to everybody, ready to advice and maintained high academic standards; as he pursued the issue of PhD vigorously. Professor Akesode's commitment to LASU was great and unparalleled…. Lagos State University had lost a great man and the best tribute to his memory was to make LASU a better place than Akesode left it… May God grant his departed soul to eternal bliss."
The former Dean of Students Affairs, Prof. Tayo Odumosu described Professor Akesode as "a very humble man, passionate in discussing with people and someone who embraced everybody. Professor Akesode bent backward to approve funds for students' programmes in spite of their unruly behaviour on some occasions. The weakest part of the late Vice-Chancellor, which was also his greatest strength, was that he could not say no to anybody."
In the words of the University Librarian, Mr. T. A. Seriki, "Professor Akesode was a man of peace, who was always accessible. He came to LASU when the spirit was very low, but left at a time when LASU could raise its head among the comity of universities. He delegated responsibilities to subordinates and stayed by them to get them accomplished. He gave great support to the construction of LASUCOM Medical Library and got it commissioned in February 2001. May his soul rest in peace."
And when it was Prof. M.O. Opeloye's turn to give his tributes, he simply broke into tears. Amidst tears and sobbing, he managed to say that "Professor Fatiu Akesode had great love for LASU all times. He appreciated people's work and had a spirit of forgiveness. May God grant his soul eternal rest."
Engineer S.A. Seriki, a member of the Governing Council remarked that the greatness of the late Vice-Chancellor lies in the fact that "he held a special prayer session for Lagos State University during the year 2000 pilgrimage at Mecca. He rendered selfless service to Lagos State University. May God grant his family the fortitude to bear the loss."
The Dean, Faculty of Management Sciences Prof. O.J. Fapohunda, described the late Vice-Chancellor as "very humble and simple during his life time." To the Dean, Faculty of Law, Prof. O. Yerokun, "Prof. Akesode was always appreciative of people's good act. His priority at all times was to get things done properly. On the part of the Dean of Education "the late Vice-Chancellor was very peaceful and simple".
Mr. Segun Adeola, a member of the Governing Council, in his own tribute, averred that "late Prof. Akesode had the fruits of spirit, a good user of human resources, a person worthy of emulation as far as his temperament and disposition were concerned." On the part of Mr. Aderemi Makanjuola, another member of Council, "the late Vice-Chancellor was a rare gem who did his best for LASU and a lot to bring Lagos State University up…My belief is that Professor Akesode's death would make government more interested in Lagos State University and do something to immortalize his name. May God grant him eternal rest."
Prince Ladega Adeniji-Adele, a member of the Governing Council, described Akesode thus "…. He was a friend and in-law. He was very brilliant at school. He was very humane and generous to a fault and could assist anybody, even if it was a well-known enemy. Akesode was not interested in the acquisition of wealth…. all members of council owed him a lot financially. God would grant the family the fortitude to bear the loss."
According to another Council member, Mrs. F.R.A. Thanni, "the late Vice-Chancellor gave everything to LASU and eventually died for LASU. The Governing Council recognises the good work of late Prof. Akesode and his name must then be immortalized." Mrs. Victoria Kolade, another Council Member however, described Prof. Akesode as "…. A wonderful genius who was able to achieve a lot for LASU. His great deeds must be carried out but the university must do something good for the family."
In his own tribute, Dr. Siyan Oyeweso, averred that Akesode was a great gift to Lagos State University and that the university needs prayer to survive as the death of our Vice-Chancellor has added a new dimension to the history of LASU. In the words of Prof. Abisogun Olubode Leigh, "Akesode was selfless, he could give out anything. He sacrificed a lot for LASU and he was for gentle."
In his own tribute, the Pro-Chancellor and Chairman of Council, Prof. Deji Femi-Pearse averred that the "late Prof. Akesode was my student in 1967 at the College of Medicine, Idi-Araba, and an exceptionally brilliant one for that matter. The Governing Council has to make LASU a better place, as the greatest tribute that could be paid to a person who had achieved so much for the University".
However, the most befitting epitaph for the late Prof. Akesode was authored by the Executive Governor of Lagos State and Visitor to the Lagos State University, Asiwaju Bola Ahmed Tinubu:
"I received with profound shock and deep sadness the news of the sudden death, this morning, of the Vice-Chancellor of the Lagos State University (LASU), Prof. Fatiu Akesode. It is particularly disheartening that the demise of the fine gentleman and accomplished scholar occurred just he was settling down to a second term as Vice-Chancellor that would unquestionably have been as successful as his first term. Even though he is no more with us physically, the imprints of this outstanding intellectual administrator in the educational developments of Lagos State will forever remain indelible. It is all too obvious that he elevated LASU to a much higher pedestal than he met the institution. Under his wise guidance, the University made rapid progress on all fronts. Not only did his reputation soar as a centre of academic excellence but the peace that obtained during his tenure was unprecedented in the history of LASU.
I can personally testify to the persistence and unrelenting doggedness with which Professor Akesode pursued the interest of LASU. He utilized every opportunity and avenue possible to draw attention of government to the numerous needs of the institution and the need to urgently meet them in the interest of Lagos State. Let me say that I was always encouraged by the prudent and patriotic leadership demonstrated by Professor Akesode to do whatsoever was in my pourer to foster the growth and development of LASU. There is also no doubt his transparent and dynamic leadership was a key contributory factor to the willingness of individuals and groups within and outside Nigeria to invest in LASU.
I am aware that despite his heavy administrative burden as Vice-Chancellor, Professor Akesode remained a committed academic who would not be counted among those, who all too readily prostitute their intellectual integrity on the contaminating altar of material acquisition, contributed a great deal to dragging our nation downhill. On behalf of the government and people of Lagos State, I extend my heartfelt condolence to the family of the late Professor. It is my prayer that Almighty Allah will grant his loved ones the fortitude to bear this great loss. However, they should be grateful to the Almighty that Professor Akesode has left behind a good and honourable name of immeasurable value.
He has bequeathed to us an incomparable record of patriotic and dedicated service that shall continue to inspire future generations. And for us all his life offers an enduring lesson. Between the point of our birth and that of our death, we have the opportunity, through our actions and inactions, to determine what history will record of us for posterity. May Professor Fatiu Akesode's noble soul rest perfect peace."
Prof. Siyan Oyeweso, former Dean, Faculty of Arts, Lagos State University writes from Osun State University, Osogbo
March 30, 2021