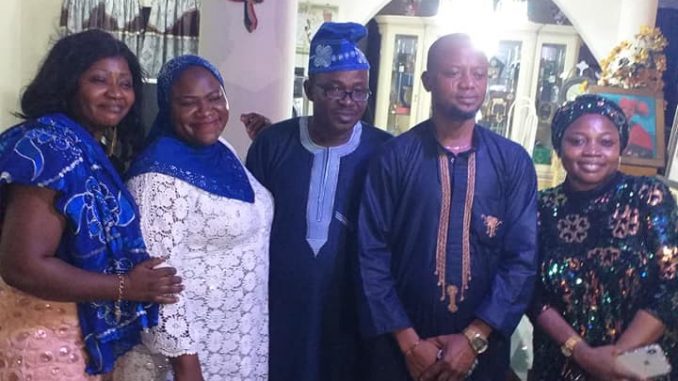 The Fuji Chamber residence of the late fuji music act, Dr Sikiru Ayinde Barrister, came alive on Sunday when the planning committee members of the forthcoming Barrister Festival-Barry Fest-converged on the living room which serves as his tomb.
Piloted by Chairman, Alhaji Olaide Olawumi, a Fellow of the Institute of Chartered Accountant (ICAN), the members were in ecstasy to flag off the ceremony and update public, especially Barrister's family represented by one of his son, Mr Samsondeen Balogun and Alhaja Modinat Barrytide.
Olawumi, who would clock 57 years just 24 hours after the meeting, took charge of the proceeding by highlighting programmes of the festival scheduled for Lagos and Ibadan between February 11 and February 13.
According to him, Day One would witness a visit to the Fuji Chamber where what is called the Hall of Fame would be unveiled, after which members would head to an underprivileged home where some items would be donated to the inmates.
Day Two and Three would feature another visit to charity home, tour of interesting sites and Gala night while musical concert and presentation of awards hold at Ilaji Resort, Akanran, Ibadan, the Oyo State capital.
Olawumi told The Tabloid.net that all arrangements were near conclusion to ensure his committee delivers an event which would do justice to the memory of Barrister, urging members to sacrifice more towards achieving their collective goals.
"As far as I am concerned, nothing is too much to immortalize name of Alhaji Barrister who lived his life to satisfy all of us through his music. It is not easy to compose those evergreen songs which are outliving him today. Since I accepted to serve in this committee, I challenged myself to do all within my capability to make it a success, and I thank members who have been supportive in this journey so far," he said.
Some yards of the customized Ankara fabric for the occasion were presented to Barrister's family for onward delivery to his wives who are expected to grace the occasion.
Secretary-General of Barry Fest, Asiwaju Ademola Adesingbin expressed his satisfaction at pace of preparation, appreciating planning committee members for their commitment to stage a befitting show.
"I am very happy the way Alhaji Laide Olawumi is driving the committee; it shows we were right to have asked him to lead the team. A project like this requires integrity, and this is what we have enjoyed since the inauguration of this committee. I thank every member serving on the committee," the UK-based remarked.
Similarly, President of Ayinde Barrister Legacy Club, who is also Chairman, Ilorin Branch of the Nigeria Bar Association, Barrister AbdulGaniy Bello, said BarryFest was unprecedented in history of fans clubs, hence his club's active participation in its planning and implementation.
"Our members are already buying the aso ebi, which means we are all set to participate fully at both Lagos and Ibadan events. It is good we have all come together to honour our idol who preached unity and peace through his music," he said.
In attendance in Isolo included a former President and current Vice-president (Nigeria) of the Ayinde Barrister Legacy Club, Mr Abdulwasiu Popoola and Mrs Bola Akinjobi, Director, GIB, Concept, Mr Ganiy Ibahim, an administrator of Barry Black Votary Fans, Mrs Omobolanle Nurudeen, two leaders of Mr Fuji Fans Club, Alhaja Shukura Olabisi Muna and Mrs Omobolanle Olateju (BBGold) as well as others dedicated members of the planning committee. The longest-serving drummer cum captain of Barrister's organization, Alhaji Yekeen Ayanwale (Aderoju) also attended the event.