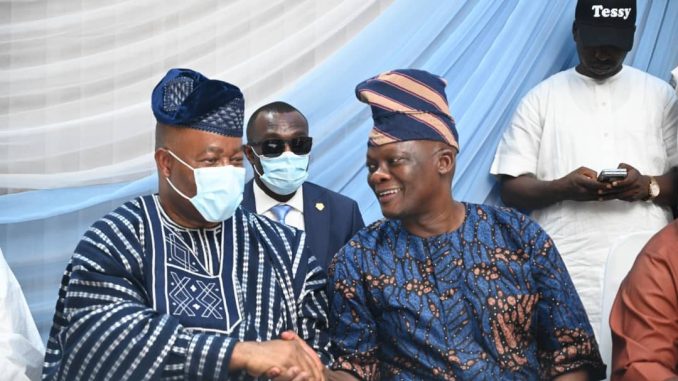 In continuation of his nationwide tour preparatory to the All Progressives Congress (APC) national convention on June 6 in Abuja, a presidential aspirant, Godswill Akpabio was in Ibadan, the Oyo State capital, today where he told the state delegates of his capacity to lead Nigeria to destination it ought to have been in development.
Referencing his eight years administration in Akwa Ibom State from 2007 to 2015, the confident Akpabio said transformation was his mission in public office and his current vision for Nigeria and Nigerians at home and in the diaspora.
The former minister, Niger Delta Affairs added, 'These efforts in Akwa-Ibom cut across all sectors. I followed the footprint of late Chief Obafemi Awolowo on education by declaring free education in Akwa-Ibom State. I spent N100 per term per child in the primary and N300 per term per child in the secondary."
Akpabio acknowledged President Muhammadu Buhari administration on security and assured his hosts that he would confront the rampaging insecurity headlong as the prospective Commander-In-Chief of the armed forces.
He also promised to integrate traditional institution, in particular, into his administration to end the insecurity challenge.
Akpabio appealed to the delegates to be strict on integrity, antecedent, competence, accomplishments credentials of aspirants to elect the party's candidate.
In his remark, the gubernatorial candidate of the party in the state, Senator Teslim Folarin, revealed that Oyo State had 99 delegates making it the third highest in the country.
Folarin stated, "so, those who need our votes come here to see us. For us, those aspirants who are wooing delegates through newspapers are not serious aspirants. Among all the aspirants from outside South-West who have visited us, we will support you."